Twice Shy sounded like a good rivals to lovers, a quick and easy read, perfect for when you don't have much time to read. Or so I expected. It was all that but also so much more.
---

Maybell Parish has always been a dreamer and a hopeless romantic. But living in her own world has long been preferable to dealing with the disappointments of real life. So when Maybell inherits a charming house in the Smokies from her Great-Aunt Violet, she seizes the opportunity to make a fresh start.
Yet when she arrives, it seems her troubles have only just begun. Not only is the house falling apart around her, but she isn't the only inheritor: she has to share everything with Wesley Koehler, the groundskeeper who's as grouchy as he is gorgeous—and it turns out he has very different vision for the property's future.
Convincing the taciturn Wesley to stop avoiding her and compromise is a task more formidable than the other dying wishes Great-Aunt Violet left behind. But when Maybell uncovers something unexpectedly sweet beneath Wesley's scowls, and as the two slowly begin to let their guard down, they might learn that sometimes the smallest steps outside one's comfort zone can lead to the greatest rewards.
Book: Twice Shy | Author: Sarah Hogle | Publisher: Putnam | Published: 06.04.2021 | Pages: 302 | Genre: Contemporary romance | Rep: social anxiety | TW: loss of loved one (in the past), panic attack
---
REVIEW OF TWICE SHY

After the initial slow start, I was thoroughly captured by this story and especially its characters. I read this book in two sittings and it ended up being one of my favourite reads of the year so far. So let's go have a closer look at what exactly I loved so much, shall we?

Wesley. Listen, this man is just. The embodiment of a cinnamon roll, too good, too pure for this world. He is so sweet and attentive and just plain good and nice. He has severe social anxiety which causes him problems getting to know new people. But he thaws with Maybell and opens up to her and once he gives something of himself, he gives his all. Wesley is one of those characters I'd like to protect at all costs. I love him so much!
Maybell. I loved Maybell as well. She's a dreamer stuck in this world with all its bad friends and bad jobs and situations that seem to have no exit. Then an exit shows itself and she starts a whole new life, leaving everything behind while returning to the only home she ever truly felt at home. She's has a bright, sometimes bubbly personality but has her head in the clouds. She's genuinely open and warm and embraces a challenge.
Wesley and Maybell together. What a wholesome couple. Even though they clash at the beginning, they really grow on each other soon, they realize what they have in the other and how lonely both of them actually are. They team up and quickly find things in common and differences they love about each other. Maybell and Wesley listen to each other and deeply understand each other and they are just so gone for the other. My heart is full with their love and their understanding and emotions. They're one of my favourite literary couples.
Portrayal of grief. I really liked how grief was portrayed and how it can have different forms. There is Maybell and Wesley's own grief, for their lives and what they missed out on and how (especially Maybell's) childhood was anything but perfect. Maybell grieves the life she could have by becoming a dreamer, then grieves a distant aunt she didn't truly have contact with but loved anyways. Then there's the aunt's own grief we experience through Maybell and Wesley's eyes. The book shows different kinds of grief very well and how grief might change a person – or not at all.

The start was really slow. I needed about 50 pages to really get into the story. I was afraid at first that I'd get bored, but as soon as I was over that point, I really got into the story. Apart from the slow start, I loved literally everything about Twice Shy.
---
Twice Shy was such a wholesome, fluffy read that doesn't shy away from heavier topics. It had wonderful characters and a sweet romance with characters that are head over heels for each other. I enjoyed this book immensely and would absolutely recommend this!
---
ROMANCE TROPES IN TWICE SHY
forced proximity | rivals to friends to lovers | grumpy x sunshine
---
RATING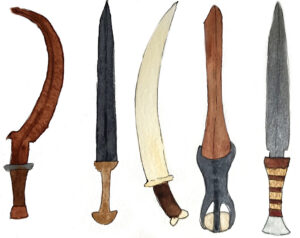 ---
YOU MIGHT ALSO BE INTERESTED IN…
---

Have you read a Sarah Hogle book yet? What other books with these tropes can you recommend? Especially romance books?
---
Until next time,