*NOTE: AD / WERBUNG
I received a copy of this book from the publisher via NetGalley for free in exchange for an honest review.

Where there's a will, can love find a way?
When cynical divorce lawyer Daisy Jackson unexpectedly inherits a ramshackle farmhouse in Provence, she sets off for the French countryside to oversee renovations herself.
But Gabriel Laforet has other ideas. A local builder with ties to the property, Gabriel is determined to see Daisy off and preserve the characterful, charming farmhouse – which, but for a missing will, he knows is rightfully his.
When the two meet, it's clear they couldn't be more different: Gabriel has lived in the small country village all his life; Daisy is a city girl whose career means everything. He is laid-back and messy; she is used to being in control. As they begin to work together, sparks fly. Yet they're inexplicably drawn to each other and, in the heat of the Provence sun, secrets begin to spill. Perhaps Daisy can trust him with her carefully guarded heart after all?
But Gabriel is still searching for the missing will that proves the farmhouse belongs to him – and in doing so, risks upturning everything he and Daisy have started to build together . . .
Book: An Escape to Provence | Author: Sophie Claire | Publisher: Hodder & Stoughton | Release Date: 12.05.2022 | Genre: contemporary romance | TW: loss of loved ones (in the past), car crash (in the past)

An Escape to Provence truly spoke to me at first, mostly because I absolutely love Provence and southern France in general. And a bit of hate to love is always my jam. So of course I was very excited to read this book. I'm a bit torn about it though.

I loved the descriptions of Provence. The dry, hot air and flirring heat, the cicadas singing their song, calm early summer days, the smell of herbs in the air. It really made me miss this place. I could feel myself back, I could smell rosemary and lavender in the air, feel the sun's scorching rays on my skin, taste fresh fish, hear the cicadas. The descriptions were vivid and real and created a beautiful, summery atmosphere.
All the food descriptions made me hungry. Listen, I love food. I love French food. I love when a book has descriptions of food and how to prepare it and how it tastes and how it makes a person feel. Loved that for the characters and for myself.
The conflict between Daisy and Gabriel. It's easy to see why they don't like each other and why their interests differ. They come from different backgrounds and have different plans for their lives that don't really match. Nevertheless they admire each other for various reasons and are drawn to each other. Yet still they know themselves really well and also get a good feeling for the other quickly. I liked how their relationship was written, it felt realistic.
I loved the feeling of the village and its community. Everyone there is friends and it's basically one big family that is very open and friendly and embraces everyone. It fits the wholesome, warm atmosphere of the rest of the book.

What annoyed me most was the drama at the end. Like, I knew it was coming. I just didn't see how it was coming. Because except for the last few pages, the reason for the drama was not mentioned a single time nor was it really hinted it. It felt very random. It really threw me out of the story.
It felt a bit long to me. All the "will they won't they" was a bit too long and dragged in some parts.
While I enjoyed reading about the characters, I didn't really get attached to them. Both were so set in their ways and so stubborn and I did not warm up to them at all.
---
Overall, I enjoyed An Escape to Provence, it was a lovely and gentle romance that really, really made me miss summers in Provence. It's the perfect read for hot summer days where you wish you were somewhere else and rainy, cold seasons to dream you away to nicer weather.
RATING: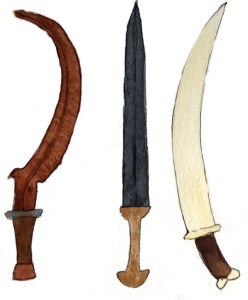 ---
---

What books made you wish to travel somewhere else? What are your favourite summer romances? Have you ever been to France?
---
---
You might also be interested in…
---
---
Until next time,