The more I thought about The City of Dusk, book one in the Dark God series by Tara Sim, the more I loved it. So when The Midnight Kingdom was up on NetGalley and I was approved to read it, I was extremely happy. I still put off reading it for it being such a beast of a book. In the end my wish to return to the Lastriders and the other heirs succeeded and I finally picked The Midnight Kingdom up. Continue reading to find out how I liked it.

Synopsis
The divine will have their war – and not all will survive it.
Scattered across the realms, the four noble heirs of Nexus walk a dangerous path, attempting to undo the damage the gods have wrought.
Taesia, the shadow-wielding rebel of House Lastrider, and Nikolas, the reluctant soldier of House Cyr, find themselves stranded in Noctus, the realm of eternal night. But they are not alone. They've been followed by the unpredictable god of light, determined to destroy Noctus.
Meanwhile, Risha, the peacekeeping necromancer, must navigate the treacherous realm of death, Mortri, where the spirits don't take kindly to the living. The stubborn elementalist Angelica fights a battle of her own in Vitae, trying to keep Nexus from unravelling while secretly suffering from an illness that could have disastrous repercussions for her family, her kingdom, and her dreams of the throne.
As the heirs struggle to restore balance to the universe, they encounter new allies and new foes alike. But the gods grow stronger. And their descendants will need more than their magic and wits to survive the coming war…
Book: The Midnight Kingdom | Series: The Dark Gods #2 | Author: Tara Sim | Publisher: Hodder & Stoughton | Published: 22.08.2023 | Pages: 592 | Genre: fantasy | Rep: bi MC, wlw MC & LI, wlw side characters, queer side characters, Brown MC & side characters, East-Asian inspired characters, genderfluid side characters | TW: murder, blood, loss of loved ones, violence, torture, gore, eye removal, manipulation
---

Review
While it was a very slow beginning for me as I had to reconnect to the characters and also find myself into new worlds and new characters as well, I immediately liked The Midnight Kingdom better than The City of Dusk. While there were just as many details in basically every sentence, there was also tension and suspense. I have to admit that I still care most about Taesia Lastrider and that it felt like her show at first, though the other characters really grew on me this time around.
I still love how detailed the book is, both when it comes to world building and to character development. Even though it slows the pace of the books, all those details make the characters and their surroundings come truly alive and tangible and I simply loved diving into the minds and feelings of everyone, getting to know them better and better. Same goes for the world(s).
As I said, Taesia is my favourite. My beloved. She struggles a lot, mostly with herself and the expectations she has of herself but also those others have of her. She is torn between these and her wish for more and for power. She is determined, yet impulsive and prone to make mistakes because of that. Still, she tries her hardest and I really admired that about her. Through her chapters we get a lot of insight into Nyx's world and his powers.
Surprisingly, I came to truly like Angelica as well. While I admired her determination and her quest for more power already, I liked that I go to see another side of her as well. She isn't gentle, never that, but she slowly starts letting people in and allowing herself to care. She still has her walls up high, but she tries and accepts help and also helps others even when she can't profit off it. She travels through Vitae so I got to know a lot more about the world each of the heirs was born in. We also get to know a lot more about Deia.
I also liked Risha's story in The Dark Kingdom. She grows into her powers and accepts them for what they are, making the most of them. Even through her struggles and her pain, she manages to grow and get stronger. Her journey through Mortri I could imagine very well and I liked seeing that realm written out even though the realm itself is terrible.
With a great eye for details, Tara Sim continues the journey of the heirs in The Dark Kingdom. The story is rich of pain, uncertainty and darkness, but also full of hope, humor even, and love. It is such a good mixture of light and dark, while slowly descending into the latter nevertheless. The atmosphere of the book is tangible and I could imagine everything so, so well. The characters all have a place in my heart and I truly adore The Dark Gods series. The Dark Kingdom is definitely one of my favourite books this year.
Rating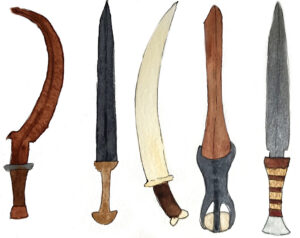 ---
YOU MIGHT ENJOY THE DARK GODS SERIES IF YOU LIKE
a diverse cast of characters | power struggles | politics | necromancy | shadow magic | elemental magic | light vs. darkness | tales of hope | dark magic | murderous gods | heavily detailed worlds | many POVs
---

Have you read The City of Dusk yet? Or any other books by Tara Sim? Can you recommend any dark fantasy novels?
---
Also by Tara Sim: Scavenge the Stars
---
Until next time,